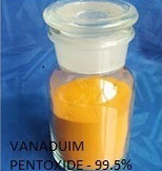 Vanadium Pentoxide Powder is used in chemical processes as catalyst. With appearance as Yellow to Brownish red crystalline powder, it is an inorganic compound. With its high oxidation state, it is an amphoteric oxide as well as an oxidizing agent. It is very important compound of vanadium, and is an extensively used industrial catalyst. In contact process, it works for the oxidation of SO2 to SO3 in the company of oxygen at 440°C and it is a strong reducing agent as well.
Unfused Vanadium Pentoxide is used in the manufacturing of fertilizers, photographic developers, ink manufacturing, insecticides, textiles dyeing, paints and varnishes, ceramic colors, leather & glass industries, in the extraction of phallic anhydride from naphthalene and as catalyst for various chemical and industrial processes.
Product Name
Vanadium Pentoxide (Unfused)
CAS NO.
1314-62-1
Linear Formula
V2O5
Soluble in water; Free From Impurities; Easy To store; Longer shelf life
Specification
V205
99.5%min
V204
1.0% max
S
0.01%max
Fe
0.02%max
Si
0.06%max
Ca
0.03%max
Al
0.005%max
Na2O+K2O
0.05%max
Chickpeas are known as "White Kabuli Chana". One of the largest producers of chickpeas in the world is India. Protein level is high in Chickpeas. We are regularly Exports to Singapore, Indonesia, Malaysia, Thailand, Vietnam, Europe, USA, African Countries, UAE and Australia. Chickpea "White Kabuli Chana" is available with as around the Year.
Product
Name
Chickpeas / White Kabuli Chana
Product
Size / Count
40/42; 42/44; 58/60; 75/80; and other size as client's requirements
Origin
Indian Origin
Type and Clean By
Machine clean and Sortex Clean
Foreign Matter
1.00% MAx
Moisture
8.00 % TO 10.00%
Packing
25 / 50 KG PP OR JUTE BAG and As per Client Requirement
Container Load
20 FT
23 MT TO 24MT
All other specification as per International standard.